Here are some basic troubleshooting if your Psiphon is not working in Windows OS
Connection Failed
If you see repeated "connection failed" messages, it means that there are no available servers that your client knows about. Try to download a new Psiphon client.
Disconnection
his is most commonly caused by an unreliable or inconsistent Internet connection to your computer this can mean inconsistent Wi-Fi or an unreliable Internet Service Provider
Cannot Connect to Internet after use
When Psiphon for Windows connects it modifies your computer's proxy settings, and when it disconnects it restores them to their original state. If Psiphon for Windows does not exit properly, it may not properly restore the original proxy settings, and this will result in you being unable to connect to the Internet.
The easiest way to fix this for most people is to connect with Psiphon again, and then cleanly disconnect.
To manually fix your proxy settings, open Internet Explorer, then go to the Tools menu (or gear icon), Internet Options → Connections tab → LAN Settings button. Then remove the checkmark beside "Use a proxy server for your LAN".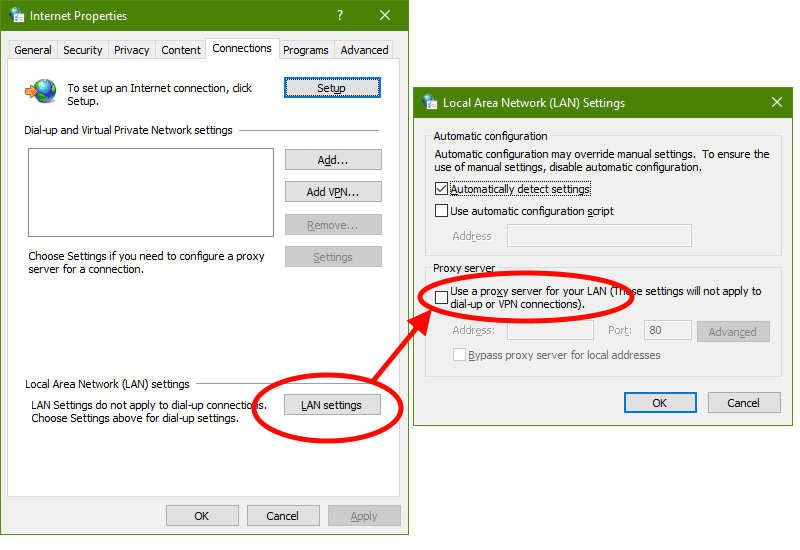 Error: doc.body is null or not an object
This error will occur on Windows XP if Internet Explorer 6 is installed. Psiphon for Windows requires Internet Explorer 7 or higher to be installed. The best way to install higher versions of Internet Explorer is via Windows Update.
Connect with Psiphon for Windows in L2TP/IPsec mode error
Your network's firewall may not allow the use of VPNs. Your home router may not be configured to pass through this VPN protocol; check your firewall settings to see that IPsec or L2TP pass-through is enabled. Your system's IPsec Services may be disabled; check your service settings and enable these services to start automatically.
Slow VPN Mode
Certain networking hardware or Internet connections may cause performance problems for L2TP/IPsec which is the protocol used by Psiphon in VPN mode. Try disabling VPN mode.
Pages not loading
Psiphon restricts DNS traffic to white-listed, vetted DNS servers. The Psiphon client automatically configures your VPN DNS server settings. If you're getting errors related to DNS, check that you're not infected by the "DNS Changer" malware, which tries to change your DNS server settings.